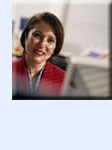 The Value of Marketing Research
Marketing research exists to help manufacturers and service providers identify, understand and meet consumer needs and wants by improving the quality and usefulness of their products and services.
By answering the questions of marketing researchers, consumers make their opinions on products and services known. This is their chance to communicate with those who can make the changes that consumers want.

Frequently Asked Questions

- Will my opinions and responses remain confidential?

Confidentiality is a vital part of market research. Your responses will never be attributed to you directly. Your responses are compiled statistically along with the answers from other respondents.


- I am registered on the National Do Not Call List. Why are you calling me?

As TSP is a market research organization conducting market research surveys, and public opinion polls, we are exempt from the National Do Not Call List Rules. These types of calls are not telemarketing calls because the caller is not asking you to purchase, lease or rent products or services.


- Will someone try to sell me something?

Our interviewers just want your opinion. Their job is to ask questions, only. If a person represents himself or herself as someone conducting a survey and then tries to sell you something, he or she is probably not a marketing researcher.


- Why do you ask personal questions about age, family, income or occupation?

Your background, family and education have a lot to do with your choices of products and services. We ask questions about these things to help us understand who is buying or selecting what, and why.


- Why do you ask for my name, address and telephone number?

We need this information so a supervisor could, if necessary, call to confirm that the interview was done correctly. Only a small percentage of all interviews are checked like this, but in order to be sure that our information is correct and valid, we must ask for your name and address. Again, any personal information is held in strictest confidence.
Tele-Surveys Plus Inc.

505 René-Lévesque Boulevard West
Suite 1400, Montreal, Quebec, CANADA, H2Z 1Y7
Telephone: (514) 392-4702, Toll free (800) 661-4702
E-mail:
info@tsp.ca